I was born in Vught, near the city of Den Bosch on Friday the 8th of September 1950 at 6.40 am. My sibling are  Monique born in 1952 in Vught and Rob in 1954 in Oss.
I was the 18,000th inhabitant of Vught and this fact got me into the newspapers right from birth. Weight 6 pounds, 80 grams. When I was three years old, my father got a better job in Oss, some 25 kms from Vught.
I grew up here and lived in Oss until we moved to Australia in 1983. The fifties was still an after the war recovery period, housing was limited and in Vught we lived in a single house split in two (duplex) one-bedroom apartments, we lived on the ground floor one with a garden and another family lived on the first floor. A year later they moved to a two-bedroom apartment.
Oss
Some of my activities in Oss

This town has a rich history, dating back to prehistoric times, when the area north of the current town was inhabited by small farming communities. Discoveries indicate trade during the Roman times. The reasonably prosperous town received its city privileges from Countess Johanna van Brabant in 1399. During the 80-year-war the town was situated on the border between Gelre and Brabant and suffered tremendously due to pilferage, ransoms, poverty and despair. The following period as a colony under the States General was not much better. In 1871 Jurgens (Unilever) started the production of margarine. This was the beginning of the town's industrialisation, which has provided it with many economic advantages.

With my interest in history, I wrote many articles for the local newspaper, wrote several local history books and organised historic events, historic city tours and lectures. I was one of the initiators of the local Historic Preservation Commission and I was instrumental in re-establishing the Jan Cunen Museum. Looking back, it was as if I was stepping back in the footsteps of my grandfather who had a similar passion for the town he lived in.
In Oss they moved into a 'big' house, with a nice garden in a neighbourhood that was only recently constructed. They had a bathroom with a bath and central heating, total luxury for that time. I went to the Don Bosco primary school, this was at a time without hardly any cars (there were only 2 families with cars in the whole street, one in the picture below) we always played outside on the streets, there were some 20 children in our part of the street and we very often played together. I remember that some trades people still used horse and cart, one who picked up food scraps, one that delivered coal (the central heating was fuelled by coal and later by gas) and there was also the olieman (oiler) many people still used petrol stoves and petrol heaters.  Milk and bread were also home delivered, and I sometimes assisted the milkman (Toon Ceelen see below), as I than could travel hanging on his delivery vehicle a sort of golf buggy but than for transport, the baker used a cargo bike, I still remember the smell of the fresh bread he transported.
Nachtegaallaan Oss (very first house on the left in the picture)In 1953 the family moved to Oss, a small but buzzing, provincial town in Brabant. Herman was offered a position at the local council and over the years worked his way up. He continued his work for the youth and also here became the chairman this time of the youth association of the Parish of Gerardus Majella  and enjoyed many good years, making friends for life. Annie became involved in the newly-established Catholic Parish of Don Bosco in their neighbourhood and was active in social work.
There were two little shops in our street one from the milkman and next to them a tobacconist and grocer there was also a bigger shop at the end of the street, a supermarket, but nowhere near the size of today's supermarkets.
I had several friends from school Fred, Berend, Jos, Herman, Cyril, Hans and a girlfriend Anneth. When I was 7 I joined the scouts (cubs) followed by the proper scouts, the rovers and finally a cub leader. I loved it we had many camps, night walks, campfires and so on.
Life was not all that complicated in the 1950s. Everybody was working hard, rebuilding and recovering from the recent war, money was not plentiful, but this was improving year by year. Herman took on some extra work reorganising the council archives of the neighbouring town of Megen. The television arrived in 1959, just in time for the Olympic games in the following year. The first family car made its entrance in 1964, after my dad got his driving licence.
In 1961 I started high school and that brought a new group of friends and different teenager activities. In order to earn pocket money, the Rovers started a babysit service and I was the organiser of it, which also meant that I could pick the best jobs. When I was 16, I had – with some extra financial assistance of my parents – enough money to buy a 2nd hand motorcycle. Another pocket money business was to deliver books to people's homes throughout Oss from one of the bookshops in town, soon I knew every single street in Oss.
My time with the Rovers was a great one, by this time we had a whole group of boys and girls and we had the most fantastic parties. The scouts had their own clubhouse – a reconstructed farmhouse – and we had part of the top floor. We also went on our motorcycles to Luxembourg where we had a great camping holiday.
After the high school I went to a business college in Nijmegen, I was lucky as there was one more person from Oss in my class and he had a car (ugly duckling) and he picked me up in the morning and brought me back in the afternoon and we shared the costs, perfect.
On the first day in this new school I met Louise, she was one of three girls in what for the rest was a boy's school. I immediately was attracted to her, but it took me more than a year to date her. We had lots of fun in Nijmegen and in the end at the final exams I ended up as the 2nd best one of that year, that even included a small money prize.
Another highlight of this period that I vividly remember was the first moon landing in 1969. I was my family on our way to our holiday destination, when we on the night of the moon landing stayed in a bed and breakfast in Austria, we woke up in the night to watch this historic event. Another event that had a lasting impact was the assassination of John F. Kennedy, I was walking with my dad in the city centre of Oss when we heard the news. Talking about shocks much later of course was the 911 attack on several buildings in America including the Twin Towers, we were in Bucketty when a technician who arrived in the morning told us about the attack and from that moment on we sat glued in horror in front of the TV.
The roaring Sixties – much more work ahead for you
The sixties were turbulent and exciting – the older generation was still partly stuck in century-old traditional ways of culture, work and religion and their kids ready for a change. Traditional institutions were challenged they included political parties, religious institutions, traditional media. Most of them were strictly silos based on class and religion. Generation clashes took place also in our Budde family but were all resolved. New thought processes were set in motion instigated by Herman's family, during specially organised family retreats. This certainly made the transformation through these, for them very confusing, times easier. Pope Johannus XXIII , John F. Kennedy, Martin Luther King as well as the Beatles left everlasting impressions on both young and old.
There were protest again military activities such as the war in Vietnam and the deployments of nuclear weapons, against the destruction of nature and the first movements of what we now call sustainability started to emerge.
A re-occurring issue were actions against poverty and famine, mainly in relation to Africa, but there was also a big action around the famine in Bihar, India. Africa of course remains after all those years still one of the major problem areas in the world but increasingly their wars, famine and epidemics are threatening to spill over into other parts of the world. Despite the ongoing problems on this continent also here progress is occurring: less poverty, better health and better education. As a result, a massive boom in population growth, which we will discuss later.
I also played my part in some of these events, I protested the cutting down of trees in Oss, some of us even climbed into and occupied the trees (not me), we protested the invasion of Russia into Czechoslovakia (1968), I wanted to go there but my parents stopped me from doing that. In Nijmegen we held a Speaker's Corner, debating and discussing peace issues and participated in a two-day peace march to 's-Hertogenbosch. Later in 1981 I participated in what is still one of the largest protest events (400,000 people) in the Netherlands against the placement of nuclear missiles in the country.
Clearly a lot of this is unfinished business, we were unable to use the progressive developments in the 1960s and most of the seventies to build enough foundations to deliver real change in these areas. The greedy 1980s stopped many of those early initiatives and going forwards you will still that we have massive tasks ahead to ensure that those developments get revigorated and in order to create a future that will be more caring and more equal both on local and global levels.
The positive is that despite many setbacks we have been able to avoid major international conflicts, decrease famine and poverty and increase healthcare and education, so there are good reasons to believe that we can move forwards with a positive mind.
 Louise van Daal
Written by Louise.
My family history, the Van Daal family, has been researched by one of my cousins: the son of my father's (Jacobus Johannes van Daal) eldest brother Lambert van Daal. I won't go into this, as I do not know that much about it. My brother Jac van Daal has more information.
I know that my father's mother's family came from the northern part of the Netherlands: her surname was Langenhorst, before she married her husband Jacobus Johannes van Daal, who came from Haps, a small village in Noord Brabant. As you see the name "Jacobus Johannes" is a real family name: my grandfather, my father and my brother are all called Jacobus Johannes: My grandfather's call name was Sjef, my father and brother Jac. A family name! And my sister Anja is called Jacoba Johanna…..
My mother's surname was Van Hulten, she was born in Cuijk, and was the youngest of six children from the second marriage of Ludovicus Theodorus van Hulten, married for the second time with Theodora Barten, after his first wife died. She left him with three girls. Theodora Barten came as household help in the family, and he married her and had six more children with her: 5 girls and 1 boy. My mother's name was Louise (just like mine) and in her family there are a lot of Louise's, Louis, and Marie Louise's. Again, a family name!
My mother's complexion was black curly hair, olive skin and dark brown eyes. This made me think that one of her forebears must have been a Spanish or French soldier who occupied the southern part of the Netherlands in the 16th century….. who knows! Cassie did remind me of my mum with her hair, but also Caroline's father has that fine curly hair…. I am the only one in my family with blue eyes (my father, brothers and sister all have brown eyes). This must have come through my grandmother Oma van Daal as she had blue eyes!
My mother met my father after the second world war, they married in 1948, 26 October, and settled in Mill, where my father lived with his mother in a large house in de Karstraat. When my father was 13 years old, his father died (1938), and my father had to leave the high school he was on, to learn a trade. This is how he became a baker. My grandmother needed one of her kids to earn money quickly! They had a small grocery store in Mill, and a potato trading business. Later on a bakery was built. When my father, Jac van Daal married Louise van Hulten, her father told her that now she was married, and now that she was going to live in the house of Jac van Daal with his mother, she was to obey Mrs Van Daal sr and never come back home, complaining! This is how she started her married life: in a small rural village (Cuijk was considered a town, albeit a very small town), mainly farmers and factory workers (there was one factory in Mill, a timber factory), and 'middenstand' – the shopkeepers, solicitor, dentist, doctors, etc. She was very proud to become a shop keeper and on one of her first days behind the counter, she dressed nicely (as she liked to do) and put some lipstick on…… well this was considered 'out of this world' by the villagers, she was 'up herself'! This taught her not to do this again! This was the world my mother ended up in, a young woman, just 22 years old.
Over all the years she lived with her mother-in-law, I have never heard one negative word about her, never witnessed a fight, or an argument. My grandmother adored my mother. And my mother looked after her mother-in-law. My mother ran the shop, my father baked and delivery bread and I was born one year later: 25 September 1949, at home. The first daughter.
My brother Jac in 1952, and a year later (12 December 1953) my second brother Stephanus Godefriedus Maria, a sickly child, who unfortunately died at the age of 1 year and 1 month, in my mother's arms on their way by taxi to the hospital. A very sad time in our household and I remember his little coffin on the dining room table for the last farewell. In 1957 another son was born, and my grandmother's biggest wish was he was called Stephanus again (her brother was called Stephanus and she wanted a Stephan in the family). That this was emotionally very very difficult for my parents, and especially for my mum, is easy to understand.
Furthermore, when Stephan was born in 1957, 25 January, she was taken to hospital in Veghel for the delivery as this was going to be a difficult delivery. It turned out a Caesarean birth, and she had the bad luck that the gynaecologist left a piece of gauze in the wound, which became infected, and she was dying. I was at school and remember the class praying for my mother…..Thanks to our GP, Dr Kurstjens, to whom my father turned in desperation, who pulled some strings and managed to get her transferred to Utrecht, a much larger and better equipped hospital, where they managed to pull her back from the brink of death; and in March she was allowed home. (Although she would never, according to the specialist, regain her full health!). I remember her coming home, helping her with bathing my little baby brother Stephan, and how she slowly regained her strength and lived a full life. In 1963 she even gave birth (naturally and at home) to my sister Anja (Johanna Jacoba Antonia Maria). See that the names Johanna Jacoba are coming back again?
This is some background on my family…. So how was it growing up in this village, with its separate boys and girls primary schools, with its limited shops and bus services, swimming pool was in the nearest larger village 15 km away. Primary school was fun: I walked to school, but sometimes I hitched a ride with one of the girls who came by bike (as we had a grocery store, I always had some sweets with me which I shared with the girls). We played a lot: in the neighbourhood we had a lot of same age kids: boys and girls, and we played on the street and in the surrounding areas. Games like hide and seek, singing games, roller skating, scootering, rope games, and everything you can think of. Not many cars on the road and this was just as well as we used all the streets to run across, to play etc.
My father was a member of the local fire brigade and one of the "highlights" was when there was a fire: one of use would race to the garage door, open the doors while my dad grabbed his gear and drove himself to the fire brigade. When the sirens would come our direction, we would stand near the intersection to check in which direction the fire brigade was going: straight on or left; we (mainly my brother) would then stop any traffic on the intersection so the fire brigade had save passage.
In wintertime we went ice skating: close to our home was 'the castle' around which was a moat. In winter this moat would freeze over pretty quickly and we would go ice skating. Coming home and being 'defrosted' was painful! But it was sooo much fun. I remember once or twice we had 'snow free' meaning there was so much snow we had an afternoon free from school.
Remember: there was no TV, no Internet, no mobile telephone in the fifties and sixties. The first TV sets appeared end fifties. One lady in the village was kind enough to let us kids come and watch the twice weekly children's program: Wednesday and Saturday afternoons at 5 pm. THAT WAS IT! We had a landline telephone at home of course, and we had radio and at 7pm there was a children's program on the radio: Paulus de boskabouter (Paulus the dwarf in the woods). I had at a certain time a record player, but not many records; and I had a tape recorder on which I taped songs I heard on the radio, but this was difficult as you had to sit in front of the radio for a long time to hear a song you liked, and there was not allowed to be any noise in the room! We played lots of board games, I played a lot with my dolls, made small clothes for them and had whole fantasy stories with them, we played with friends and in wintertime, we played in the bakery which was warm and empty.
At home, I shared a bedroom with my brother Jac for the first 8-9 years, then I had my own room. The house had no central heating, no double brick walls, no insulation, and in wintertime, it nearly froze inside the bedrooms. Before my grandmother purchased an electric blanket for me, as it was soooo cold in the bedroom, we took a warm stone wrapped in a piece of cloth to bed. As we had a bakery, the oven in the bakery was on every day, so it was nice and warm there. In the oven they heated the stones, which were wrapped in an old nappie and put in the beds to warm them! Getting out of bed in the morning when it was soooo cold, was terrible. All you could do is jump out of bed, get dressed and go downstairs where in the living room or the kitchen it was nice and warm. We had a bathroom, with a bath, but no shower. Bath time was once a week! When we were little kids, we had a bath in the bakery in winter (A portable bathtub was put in front of the warm oven, filled with warm water, and my brother and I shared the bath! Nice and warm!).
In the living room we had a coal fireplace. Coal was delivered on a regular basis in the garage where there was a special spot for the coals. When the coal ran out in the living room, one of us kids had to go and get a bucket of coal from the back of the garage. We had a big house and it was dark and cold, so not a favourite task! Scary even!!! Especially around St Nicolas time, when we imagined the black Pieters to be everywhere, and so I always ran through the long hallway, past all the closed doors. Also the toilet was in the back of the house, so another scary trip on those dark winter evenings!
This is how I grew up in the 1950's. It was after the war and the Netherlands, and the rest of Europe, was feverishly building up towns, economies and infrastructure and countries. My parents worked in the store; my grandmother assisted by doing a lot of work whereby she could sit, and looked after the household on Saturdays (the busiest day). We always, every week, had pancakes on Saturday lunch time (with cherries, or apples!). My father was out all-day home delivering shopping and bread, my mother was in the shop all day. So, my grandmother looked after us, and everything else.
After primary school it was decided I needed to go to boarding school. Schijndel was the place, and the Sisters of Love was the order who run the boarding school and the high school.
I did not like it at first – we were not allowed to go home for six weeks, and I missed home sooo much. But like everything in life, you get used to the status quo, and all in all I had a good time (Although I would never ever think of sending my kids to boarding school!). I had my friends with me all the time. We had fun, did not lots of games, played all the time, and I was an easy student. I could have done a lot better, but with not much stimulation, and a boring curriculum it was as it was. It was in these years that the murder on John F Kennedy took place, as with most of my generation we know exactly where we were: I was in the recreation room of the boarding school, I did NOT watch the 8 PM news that night (remember we did not have 24-hour news cycle, news was read at 8 PM for about 20 minutes). A shock to the world, as was the murder on his brother, Robert Kennedy and on Martin Luther King. These were difficult times in the world: the Baader Meinhof group in Germany wanted to overthrow the world order, Italy had its fascist groups kidnapping judges and bombing and in Paris the University students had mass protests. In the seventies there were bombings in Ireland and London, where the IRA held on to their ideologies, the Palestinians Liberation Army took Israelian Olympic hostage during the 1972 Olympic Games in Munich (many died), and there were train hostages in the Netherlands by the Ambonese reactionaries and plane hijackings. These were unruly times.
After 4 years of high school, I did not want to go to work yet, wanted to study on so, not knowing which direction, or what my capabilities were, we choose the Business School  (LDS) in Nijmegen.
Every day either by bus, or later by motor bike to school. In 1967 Mill organised an Expo with local businesses and my father promised me I would earn the money for a motor bike (Mobilette – a 50cc motor bike, so fashionable in those days and the worry of many parents!) if I 'manned' the stand for the three days. This I did and in the April 1967, I purchased the motor bike. I used this bike of course to get around, but also to go to school with (25 km) in Nijmegen! Paula, my friend also had a motor bike and together we rode to Nijmegen.
If we did not go on the bike, I had to take two buses to cover the 25 km. And if I missed the bus home, I was stuck as buses to Mill only went every 2 hours. My dad had to pick me up in the closest town Grave (15 km) on a regular basis. After two years and end exam of the lower Business school, the higher Business school (MDS) opened, and I was one of the three girls who enrolled; the other ones were Paula (who became my friend) and Lies. There were 70 boys and 3 girls and lots of fun! This is also where I met your grandfather, who also enrolled. I remember him telling me he had noticed me on the first day of school (not hard when there were only 3 of us) and immediately really liked me. I must admit, there were too many other interesting boys around, and it took Paul a year to woe me over!! After that we were the school's couple and some of the teachers made the effort to come to our wedding reception!
Our time in London
Back to school, after the final exams at our business college, Louise and I spent our practical year in London (1970/1971). We had travelled to London during the previous Eastern holidays where we had been able – with the assistance of some of one of our babysit customers – to secure jobs at "Debenhams and Freebody". If you want to know what this department store looked like you need to look up on YouTube 'Are you being served'. This shop was steeped in British upper-class traditions. I served among others family members of what was then the Shah of Persia, film star Peter Sellers and – because I had brought my motorcycle – I had to do an urgent delivery of coat hangers to the palace of the Queen Mother (I didn't get any further than the servant's entrance).
I worked first on the retail floor of the store (luggage department) and later in other parts of the business, warehouse, purchasing department and other administrative departments. Louise worked in the casual fashion department. As women we had to wear a uniform: an unattractive brown, calf long skirt, and a brown/beige shirt (very
English and so not fashionable in 1970, especially after the miniskirts in the sixties!)
We had a great time living in London and travelled (hitchhiking) across the country all the way to the Orkney Islands north of Scotland in July 1971. In August we were back in the Netherlands again and real life started. Louise started working at a fashion store in Nijmegen, for a short time. She then found a job at Bergoss, the carpet factory at the Domestic Sales department. She worked there until Merlijn was born in July 1975. When I started my own business, Louise slowly took over the admin, first by making invoices at home, and after we moved to Australia running the admin in the office, the sales, contact with clients, HR and everything that needs to be done in a small office.
Engagement and wedding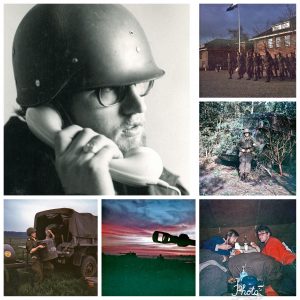 Back to Paul In London we also decided that we would marry (Louise suggested it, and Paul accepted!), we privately engaged in Dongen (where we were visiting the family of a sister of my father) in late 1971 and we got married on September 1, 1972.
But before that happened, I had to join the army. The Netherlands had at that time still a conscription service. I was trained as a non-commissioned officer in Bussum for the job of quartermaster. I was placed in Artillery Barracks in Grave (15kms from Oss) and again I was lucky as the Captain of Company also lived in Oss and as before i
n my college days I every day got a lift in this case to and from the military base.
Our wedding took place while I was still in the army. The barracks were on the way from Mill – where Louise lived and where we had the civil wedding to Neerloon where we had the church ceremony. So, we stopped at the military barracks where we had cake with the colleague officers. We got married in the 14th century St Victor Church in Neerloon (a tiny village close to Oss) on the River Maas and the party was a few kilometres further on in Megen, another small medieval town.
Our first home was a two-bedroom apartment on the third floor in the Schaepmanlaan in Oss, overlooking a park. From here we moved to the Kempenaerstraat 1, where Merlijn, Erwin and Ravian were born. Before we moved to Australia, we lived in a beautiful historic house, Burgemeester van de Elzenlaan 2 in Oss.
A few weeks after our wedding I had to go on a two-week military exercise in Germany,  Louise was not impressed.
We travelled a lot before we had children, two notable trips: one through the inlands of what was then Yugoslavian all the way into Greece and back, this was like going back 100 years in time. We also travelled by carthrough East Germany and Poland to the Soviet Union (Minsk, Smolensk, Moscow, Novgorod and Leningrad – now St Petersburg) all while the "Iron Curtain" was still in place. It was an eye-opening experience to travel through these communist states, noticing the limitations of freedom of movement and freedom of speech, very chilling. At the Russian border, which took hours to get through – not because it was so busy (we were the only car) – but because the inside and outside of the car, every bit of luggage and everything else was thoroughly searched, we were given a map indicating the roads we were allowed to travel on and the towns we were allowed to visit. Very restricting and we of course did not always adhere to these instructions with all consequences of being in no uncertain terms told in Russian to go back! After these restrictions we crossed from Russia into Finland, and we could not resist taking whatever road we feel like – now we could enjoy the freedom again. We went home via Sweden, Denmark and Germany.
There were a few months between the time I finished my military service and before I started my new job, this required a training period and that would only start later in that year.
I used that time to delve in the historic archives of the city of Oss.
This further strengthened my lifelong interest in history, in Australia I initiated the Convict Trail Project, looking after the 200km long Great North Road built by convicts, wrote books on the history of the local Aboriginal people the Darkinjung; the History of Bucketty; the Budde Book; the War of my parents; Annie Budde in Dutch New Guinea and the Dutch-Australian history -Netherlands East Indies/Indonesia. (http://paulbuddehistory.com/)
Pioneer – users of digital technologies
Later in 1972 I started my working life with a company called Rank Xerox, this was one of the leading tech companies at the time. They produced the first plain copying machines this is still all pre-digital technology. The first 6-months was fully paid training period, staying in hotels, this really provided me with a business foundation that together with a marketing study I was doing at the same time has been very useful for the rest of my business life.
I worked there until 1979 and in that time the company also produced the first word processors, laser printers and plain paper faxes, this was all leading edge at that time. They were also the inventors of the graphical user interface (GUI), computer icons, file folders, the mouse (two-button one) and Ethernet networking. These inventions were copied by Bill Gates, and this allowed him to develop the Apple and Microsoft products.
I oversaw setting up the company's very first copy shop and was also involved with the introduction of the first colour copier, there were only two of these machines in continental Europe one in Germany and one in the Netherlands. They costed Dfl500,000 (A$350,000) each at that time.
When we started our own business services bureau in 1979 – called Copy Team – we were among the first to venture into new digital technologies, something we only realised much later when I started to look back to this exciting period.
A technology called videotext (the predecessor of the internet) used a special TV for its display and you needed a modem with a speed of 1200/75 (1200 baud down and 75 baud). So, 1.2kb/s, compare this with the mega and gigabits of today.  This is the period before the arrival of personal computers. The equipment that we could use for this pre-Internet set up was a keyboard, TV and modem. With this we could create videotext pages (web sites). In 1982 we changed over from this proprietary videotext equipment to an Apple II computer, with graphic drawing board for editing purposes.
At home we also used Teletext this was a TV-based information service offering text-based news, weather and TV schedules, subtitles (or closed captioning) information was transmitted within the broadcast signal. In the early 1980s we were also among the first to use a VHS videorecorder and a few years later a CD player and a video camera.
We took most of this hi-tech equipment with us to Australia and we became the videotext specialists in Australia, this was also a key reason for Australia to get our immigration papers, we were bringing new technology knowledge into the country.
In Australia we also got our first fax machine and the first mobile phone (1990s), however, this was what they called a transportable cellular phone you got a bag with it to carry it.
A few weeks after our arrival Telstra (then called Telecom Australia) mentioned that they would develop videotext in Australia and I became their business consultant, we also set up our own hosting service and developed Australia's first online banking system for the Commonwealth Bank (Telebank), we also had a specialised hosting service for the airlines and assisted Lend Lease and TAFE developing their videotext services. Louise did all the entering of the data on the special Apple PC with 'graphic tablet'. We lived in Roseville, worked from home, and worked a lot at night as that was when the kids were in bed! Ideal, as we were always home when the kids came home from school!
In March 1990 we moved from Roseville to Bucketty, a property we had purchased in 1986. There was a small weekender (living area, kitchen and our bedroom) on it, a cottage with one bedroom for the 3 kids (bunk beds), and an outdoor dunny with a half door (you got wet when you were sitting on the toilet and it rained!) and a little bathroom. After moving to Bucketty we first built the office, finished in June 1990, and then started building the bedroom area of the house. The whole house was finished in September 1991. The kids had to change schools when we moved to Bucketty, which was a real pity for Merlijn and Erwin as Merlijn was enrolled on North Sydney Girls High school; and Erwin would have started at North Sydney Boys High School. Now they needed to go to Gosford High School. Ravian did his last two years at the cute Kulnura primary school and went on to Henry Kendal High School. The kids had an hour bus ride twice a day to go to and from high school!
It wasn't until the mid-1990s that videotext was replaced by the internet, this was after the world wide web (www) and soon after that web browsers were invented. At that time, we bowed out of the hosting business as we had already created a flourishing publishing business with newsletters and business reports on the telecommunications market.
While Merlijn, Erwin and Ravian all did holiday work in the business, Merlijn went one step further and she became the key researcher of our first report on the telecommunication market in Asia.
Erwin and Ravian basically looked after the tech issues, we had in the meantime changed over to IBM PC's and when Louise won a Microsoft prize (she received the telephone call on an afternoons She was by herself in the office, did not believe the caller, and then, when realised this was real, asked if she could have the money, as we needed a washing machine much more urgently than some software packages!), we also received networking software that allowed us to link computers in the house and in the office together, we did this through a fibre optic cable.
Further upgrades of the various technologies happened over the years, but the most interesting part was that we were among the first pioneer-users of new digital technologies that entered the market in the late 1970s and throughout the 1980s and they transferred the world. By the time our kids arrived several of this hi-tech equipment was already gone again such as the VCR, CD players and fax machine.
In the 1990s this developed into a telecommunications research company. In 2005 I became the strategic adviser to the Minister for Communications in relation to the National Broadband Network. In 2009 I was the co-initiator of the UN Broadband Commission for Digital Development, I remained an advisor to the Commission till 2015.  The Commission aimed at utilising technology to improve healthcare, education, energy, mobility etc. especially in the developing countries.  During this period we travelled widely through the USA, Europe, Asia and South America.
In my later working years, I have worked with communities and cities to create better living environments based on social, economic and environmental sustainability.  Another highlight of my career was the organisation of the broadband and smart city trade missions between the Netherlands and Australia. In 2016 my special guest at the smart city conference in Sydney was Queen Maxima from the Netherlands.
We sold the business in May 2017 to a company in France (Ubiquick). They bought the business lock stock and barrel. This also meant that all staff kept their jobs and that the company continued under the name BuddeComm.
Three years later we moved to Brisbane, after we sold the property in Bucketty. This was a bit unexpected. We had built a weekender on the top of the hill in Bucketty as the initial plan was to move to Sydney. We moved to Brisbane after Erwin and Caroline decided to also move up north.
The history hobby continued by exploring Aboriginal culture and by following the tracks of the first convicts, who build a 220km road that skirts the bottom of our property in Bucketty, a jewel of a rural retreat in the Lower Hunter Valley north of Sydney.  For 25 years I was the initiator and chairman of the Convict Trail Project – a community-based initiative to restore, maintain and promote the convict-build Great North Road. In Brisbane I rapidly became involved in the local convict and early pioneering history of this town. Another research project that I started was in relation to the Netherlands Indies Government-in Exile that had been established in Brisbane and I worked with the University of Queensland on an archaeological project at the previous militarily headquarters in Wacol.
We both also enjoy philosophy with our favorite teacher Dr. Kerry Sanders from the University of Sydney.
Back to Louise
As Paul has written, we moved to Australian in 1983, lived in Roseville for 7 years and built-up Paul Budde Communication. I worked full time in the office, and when we moved to Bucketty in 1990 (to a weekender we purchased in 1986 with the first money we earned from the business) I sat down and drew a building plan for the office and the house we were going to build on the property to replace the old weekender. The house was designed around a massive beautiful scribbly gum, so that we could keep the tree. A draftsman drew up the drawn plans and measurements, and this went to Council for approval which we received. Graham Rundle built the office first, and this was ready by mid-1990, and then started on the bedroom area of the house. The house was going to be built in 2 stages: first the bedrooms and bathrooms and laundry and then the living area. In the meantime, we lived in the cottage – which contained a sitting corner, kitchen without hot water, a dining room table and our bed; the kids shared the little guesthouse bedroom, the toilet was outside (with a half door, so you got wet sitting on the toilet when it rained) and a crappy bathroom with only a shower and basin. A bit like glamping!
In Februari 1991 we moved into the bedrooms, ooooh luxury, and in September the living room and kitchen were also ready and the old cottage could be demolished (responsibly as it was riddled with asbestos!).
Life continued with alternating between work, picking up kids, dinner, and doing it all over again the next day. But slowly I reduced my workload and in 2000 I took one day a week off by going to the Central Coast and joined an art group organised by Christine van der Wijk
In 2005 I decided to get fit and in Bucketty the only way to do this by walking, so I decided to walk the Vierdaagse in the Netherlands – held every year in July. A 4-day walk – 4 loops with as starting point Nijmegen. Around 40,000 people walk, well organised, with whole villages where you walk through being decorated, music playing and thousands of people encouraging the walkers. Jac en Nelly also had started to walk, so in 2006 I joined in. Four days of 40 km per day. It was tough, fun, and challenging, but also rewarding! The medal you receive at the end is a Royal medal! Of course, I had blisters, which are not the worst you can get. But still painful.
In 2007 it was going to be MY time; I took up a course in Italian in Sydney and end May I went to Florence to join in a four-week intensive study of Italian at one of the many foreign languages institutes. I rented an apartment in a side street from the beautiful Duomo and every day I walked the 15 minutes to my language school where I attended with several Canadian and American girls, who had more fun partying than studying! The Accademia also organised outings (dinners, cooking classes, and excursions to e.g. Assisi and Cinque Terra). It was a fun 4 weeks, and in the spare time I trained for my next Vierdaagse in July.
Paul came over at the end of the four weeks and we spent 2 weeks holidaying in Italy before flying to the Netherlands for a reunion with the whole Budde family. Merlijn and Gavin, Erwin Caroline and Sebastian (1 year) and Ravian, Zohar and Aiyana (5 months). Mid July the Vierdaagse again (again with blisters!).
The last time I walked the Vierdaagse with Jac and Nelly was in 2018, during our 3-month holiday in Europe. This time the compulsory distance was 30 km per day as I was over 60. Again blisters, and the loss of a toenail! This will be the last time I will have walked this fun, exciting and strenuous walk!
In 2008 I decided to study art history and took up a UPC (University Preparation Course – so you could gain access to a place at university, which was not my intention) in Art History. One of the best courses I have ever attended, a whole year to go through the Western art history from beginning to end, complete with exams and essays. End of September was the cut-off date for applying for a university spot, and on the last day I decided to take the plunge and applied! I was accepted and in 2009 I started as a Mature Age Student at Sydney University. The start of six years part-time studying art history, religion, history, which ever subject I liked. We were with a small number of mature age students, and we formed a nice group of friends.
By 2016 I was halfway through the graduate degree but decided to stop as study got in the way of life!
Merlijn, Erwin, Ravian
After Merlijn finished her university studies in Tourism Management she travelled through SE Asia and Australia. After her marriage with Gavin Nicholson (pilot at Virgin) she moved to Brisbane where their first baby Abigail was born in 2007, followed by sisters Hannah (2009) and Grace (2011). Merlijn started university again in 2015 and graduated in 2019 with a Master in Social Studies, she is currently working at an NGO involved in refugee work.
Erwin finished his environmental sciences studies and started a job as environmental office at the Road and Traffic Authorities (RTA). In 2003 he was offered a job for this organisation in Wagga Wagga. After his marriage to Caroline Daleh they moved to Wagga Wagga. Here Erwin started the local office of Environmental Consultants NGH and Caroline had here her own dentist practice. They have two children Sebastian (2006) and Cassie (2008).  In 2019 they moved to Brisbane where Erwin became the CEO of NGH. Caroline continued her profession as a dentist at one of the local dentistry.
The creative soul in this family is Ravian, he finished his graphic design studies and started teaching at a graphic design college in Sydney. After that he took positions by two companies involved in the design and operation of hotel reservation systems. He separately also runs his own business. After his extensive travels he met Zohar Edelhstein and they married in 2006. Zohar started her own business in the design and production of exclusive jewelry. A highlight in her career was a presentation of her jewelry at a fashion show in Paris in 2020.
Their daughter Aiyana was born in 2007 and their son Neriya in 2010. They now live in Hazelbrook in the Blue Mountains.
I hope you like the historic family overview. Perhaps you do recognise certain family treats and treats of life that are weaved through the lives of our ancestors all the way to you.
I will address this in: Message for my grandchildren – My thought for you on moving forward
Paul and Louise Budde
Brisbane 2022