Moves from Nordhorn to Ootmarsum
Gerhard Budde was not the first Budde to move to Ootmarsum.
Two sons of his grandfather Johan Bernhard moved separately to Ootmarsum. Friedrich Anton (13 January 1807 – 28 March 1851),  a shoemaker by profession and his older brother Gerhard Hermann (30 July 1796 – 12 February 1843)  ( See Nordhorn)
Friedrich Anton became the first Budde citizen of Ootmarsum. (see also: The Catholic community of Nordhorn). Here he married in 1832 – Johanna Maria ten Bokkum – and after her death in 1837, Francisca Antonia Reinders. The sons of his first marriage moved to Nijverdal and Amsterdam, those of his 2nd marriage stayed in Ootmarsum. However, they don't appear in the death register in Ootmarsum, so they also must have moved to elsewhere. The Nijverdal Buddes became successful hospitality business people and their establishment is still flourishing in this town, be it no longer run by the Budde family. I visited the restaurant together with my mother in 2016.
His brother, Gerhard Hermann marries Maria Stijgerwald from Nordhorn, they must have left Nordhorn around 1830, and their three sons were born in Zutphen, Velp and Ootmarsum. The whole family died in Ootmarsum between 1842 and 1844.
Around this time Bernhard Jacob Budde from the Emsburen lineage arrived in Ootmarsum, where he marries Johanna Groothuis, but he only remained there for a short time (1835 – 1845) as he and his family moved to America in 1845.
So, around 1840 three different Budde families lived in Ootmarsum, but none of them stayed there for long.
My great-great-grandfather  Johan Bernhard (27 May 1809 – 23 November 1875)  took over the pub and one of his sons Gerhard Herman (30 September 1848 – 28 August 1916) , followed his uncles thirty years later and also moved to Ootmarsum.
Gerhard moves to Ootmarsum  (soon after his return from the French-German war in 1871). It is the same year of the fire in the pub in Nordhorn (8th September). It is not known whether the fire or his return from war had anything to do with his moving out. It is interesting to note that he was a watchmaker. As mentioned before, there was at least one watchmaker in Nordhorn, named Wolterink and as there was the family relationship, Gerhard could have had an apprenticeship here?  (For more details click here).
Ootmarsum had in those days around 1,500/1,600 inhabitants.
Der Altkrieger
In 1875 Gerhard marries, at the age of 27, Johanna the daughter of baker Hendrik Warning. According to oral tradition Gerhard often spoke with an ' old, slow and careful' voice about the wars in which he had fought. This observation was recorded in a letter from his son Theo's friend Leo Brons after he had heard of my great grandfather's death in 1916. Gerhard was locally known as  Der Altkrieger (the veteran). Another saying from my great grandfather was  "Alles mitgemacht, siebzig und einundsiebzig". (I went through everything, 1870 and 1871).
Gerhard passed his watchmaking trade on to his sons Harry and my grandfather Theo. However it was Theo who continued the business and he in his turn passed it on to his son Theo and his wife Rie Veldboer.
Following is a copy of the original marriage certificate of Gerhard Budde and Johanna Warning, as it is still kept in the family archives.
TROUW-BRIEF
Op den 30 Augustus 1875 zijn voor den Ambtenaar van den Burgerlijken Stand der Gemeente Ootmarsum Provincie Overijssel, in naam der Wet door het Huwelijk vereenigd

Gerhard Hermann Budde van beroep horlogiemaker geboren te Nordhorn 30 September 1848 wonende te Ootmarsum Zoon van Johann Bernard Budde van beroep tapper woonachtig te Nordhorn en van Wilhelmina Frieling overleden te Nordhorn den 17 December 1873.

En Johanna Hermanna Warnink van beroep geen geboren te Ootmarsum den 26 Januari 1849 wonende te Ootmarsum Dochter van Hendrikus Warnink van beroep bakker woonachtig te Ootmarsum en van Euphemia van Benthem van beroep geen woonachtig te Ootmarsum.

(aantekeningen in de linker kantlijn van de Trouw-brief)

bij Gerhard Hermann Budde: overleden te  Ootmarsum 28 Augustus 1916

bij Johanna Hermanna Warnink: overleden te Ootmarsum den 26 Juni 1908 10 ½ uur

UIT DIT HUWELIJK ZIJN GEBOREN:

| | | | |
| --- | --- | --- | --- |
| Namen der Kinderen | Geboorteplaats | Datum van Geboorte | Aanmerkingen |
| Johan Gerhard | Ootmarsum | 3 Oct 1876 | bakker Borne |
| Hendrikus Bernardus | id | 2 Jan 1878 | z/b Ootm |
| Gerardus Johannes Aloisuis | id | 27 Dec 1879 | Arnhem |
| Fredericus Johannes | id | 12 Feb 1882 | bakker (onleesbaar) |
| Eufemia Wilhelmina Geertuda | id | 11 Aug 1884 | |
| Hermanus Jacobus | id | 31 Oct 1886 | |
| Theodorus Cornelis | id | 28 Aug 1889 | |

(hand geschreven toevoeging)

Johannus Aloijsius Warnink bakker te Ootmarsum

Toeziend voogd Almelo 23 Juli 1908

NOTA Bij de aangifte van geboorte en sterfgevallen moet deze Trouw-brief vertoond worden.
At the time of Gerhard's arrival in Ootmarsum, the family van Benthem was the local watchmakers. As we can see in the certificate above Johanna's mother was a van Benthem. Could it be that Gerhard on his arrival started to work at the van Benthem's workshop? Perhaps he later on even took over this business, because in the following years we only see the van Benthem's as bakers (very successful ones I must say) and for the following 100 years we only come across the Buddes as watchmakers.
Next is an overview of the Budde family in 1916 when the estate of Gerhard and Johanna was divided.
Family overview as per 29 December 1916
Johan Gerhard Budde baker at Borne
Hendrikus Bernardus (Harry)  Budde watchmaker Ootmarsum
Gerardus Johannes Aloisius priest at Arnhem
Eufemia Wilhelmina Geertruida Budde she became the housekeeper of her brother Gerard.
Hermanus Jacobus Budde farmer Ootmarsum
Fredericus Johannes Budde baker Oldenzaal
Theodorus Cornelis Budde watchmaker Ootmarsum

After Gerhard's death:

Hermanus Jacobus receives the farming estates
Theodorus Cornelis receives the shop and the house

They had obligations towards their siblings Harry and Eufemia (board and lodging, etc)
Pastor Gerard Budde
Gerardus Johannes Aloysius, (27 December 1879 – 2 October 1929), ordained  on 15-8-1906 and became  chaplain in Haaksbergen and two years later in  Arnhem. In 1921 he became parish pastor in Glanerbrug. He received national recognition for the work he did for  factory workers. He was inspired by Dr. Alfons Ariëns (1860-1828) , the founder of the R.K. Werkliedenvereeniging (The Catholic Workers Union). Gerard Budde interviewed him and published the history of this association in the magazine 'Het Roer', the monthly newspaper of the Catholic Workers Union (R.K. Arbeidersbeweging).   This was published in three articles during 1920/1921 under the title: "Uit de geschiedenis der Nederlandsche Katholieke Vakbeweging. Notes from this interview are kept in the archives of Alfons Ariens, who later became a special chamberlain of Pope Benedict the XV in Rome.
According to the obituaries, as a parish pastor Gerard founded new schools, a sisters house, a kindergarten and launched the start of 60 houses for the workers, he bought land where he planned a building for the workers union, he extended the church and was in the process of building a domestic sciences school.
Gerard  died suddenly on 2-10-1929, this resulted in several newspaper articles and an emotional outpouring in the places he had worked.
Another important story that was proudly told by the older members of the family was that at the time of Gerard Budde there were three priests in the family, apart from him there was a brother of his mother Gerardus Warnink (1848-1914). When he died Gerard Budde was the executor of his will – this document is still in the Budde archives. The third clergyman was Hendrik Morselt (1887 – 1963?), he was the brother of the husband of the sister of his mother.  The family Morselt came from Borne where they had a clothes shop.
Other family members
Eufemia (Femia) (11 August 1884 – 24 January 1954) became the housekeeper of Hendrik Morselt in Munsterscheveld near Emmen in Drenthe.  When her brother became pastor in  Glanerbrug she became his housekeeper. After his sudden death she moved back to Ootmarsum where she lived  opposite her younger brother Theo in the Marktstraat, until her death .
Fredericus (Frits) (12 February 1882 – 1967?) had several jobs – among them as a baker in Oldenzaal  – before he moved for a short period to England, where he married Dora Sotebehr, who worked at the Dutch Embassy in London, but soon after that they settled in Amsterdam. They had 4 children (Frits, Herman, Dora and Huib) and they lived at the Ziesenkade in Amsterdam. Dora died young and their children were placed in orphanages, the boys in the Burgerweeshuis at the Kalverstraat. Herman was killed during the liberation celebrations in Amsterdam on 7 May 1945 (see below).
Harry (Henricus) (2 January 1878 – 28 February 1945) was unmarried and lived with his parents however, it was indicated by his mother that he had sexual problems and she insisted that he leaved the house, most likely he was gay. He went to the so called ' Sisters of the German Monastery', they were the Benedictine Nuns of the Holy Sacrament who had fled Germany during the anti-catholic campaign under Otto von Bismarck and had established a monastery in 1875 in Oldenzaal.  After the death of their priest brother Gerard,  Theo arranged that Harry and Femia moved to Vasse, where they together  had a small house near the church. Harry became the parish gardener, he died and was buried in Vasse.
After his death Femia moved to  Ootmarsum where she had her own little unit in the the old people's home 'St Jozef'. In the 1950s, both Bob and Fred received a DFL1000 gift from their aunt Femia.
Herman – Tompoezen Oom (31 October 1886 – 25 January 1979)
Herman Budde

Herman, together with his wife Anna and his adopted son Johan, lived on the farm in Oud-Ootmarsum. I remember them from times when, as a kid, I spent holidays with my grandparents in Ootmarsum and walked over to their farm. Later on I heard from my father that Herman was also known by the nickname of Tompoezen oom (oom = uncle). He just loved vanilla slices (tompoezen) and the vanilla ended up all over him when he at old age munched these titbits. There is a nice story about his wife of the time the farm was connected to the telephone network. During the day Herman was working the land and Anna was in the house most of the times the telephone rang. She initially always panicked, quickly took off her apron (that's what you do when you get visitors) and while shouting towards the phone to wait, she ran outside to warn Herman who had to come into the house to pick-up the phone.
Johan Budde (3 October 1876 – 30 June 1952) He had a bakery in Borne. They had 4 children Herman, Jo, Henk and Marie. His son Henk took over the bakery in Borne.  Herman moved to Amsterdam where he took over the bakery and catering business of J.G.Beunen on the Haarlemerdijk 156, which rapidly received a very high reputation. Herman was a very conservative catholic and most of his customers were devout catholics (including the local clergy). The bakery was sold in 1970. My parents visited them after the war and in the morning Anny was caught cuddling (fully dressed) Herman in his bedroom, they were severely spoken too and the incident was reported to Herman parents (Herman at that time would have been around 27 years old 🙂
Fredericus Joseph (Freddie/Herman) Budde – son of Frits Budde (born 1916) -Killed in 1945
The earliest information dates from 8 Oct 1929 when he writes a letter to his aunt Femia Budde from the "Missieschool Juvenaat H.Hart" in Bergen op Zoom to send her his condolences regarding the death of her brother Gerard Budde, pastor at Glanerbrug. (Letter in  archives Paul Budde).
During the war he had to work under the German system of Arbeitseinsatz in Remscheid. At occasions he tried to (illegally) come back to his young family in Amsterdam. At one occasion he was betrayed by an NSBer but when he and a German soldier searched the house the German soldier looked away and acted as if he didn't see him. He was back in Amsterdam at liberation.
Together with his 7 year old son Frits he joined the liberation celebrations at the Dam in Amsterdam (7 May 1945), when members of the German Navy fired shots into the crowd, it looked like Herman had put himself in front of Frits he was shot and fell on top of his son. Little Frits wondered around covered in blood and was reunited with his mother that evening, in all at least 31 people were shot dead and over 100 people wounded.
On the 6th of May, Theo the brother of Herman's father Frits sends him a Red Cross telegram to congratulate with the liberation. He receives a return telegram on the 11 May with the message that Herman was killed. (Archives Paul Budde)
This is the Dutch text of the telegram
"Proficiat. Eindelijk vrij! Hier is alles goed. Hoe is het met jullie allemaal. Hopelijk ook goed en tot ziens. Hartelijke groeten oom Theo."
Op de achterkant van dit telegram staat het antwoord genoteerd in potlood (waarschijnlijk opgeschreven door de telegram beambte in Ootmarsum??
"Dank voor uw brief allen hartelijk gefeliciteerd met bevrijding.

Onze Herman slachtoffer schietpartij Dam, tijdig bediend, begrafenis maandag. Dorus nog geen bericht.

Tot ziens Frits

11 mei 1945"
For more information on the massacre on the Dam ,see the website: Stichting Memorial voor Damslachtoffers mei 7 1945 (there is also a section in English) and includes photo and video material:  http://de-dam-zevenmei1945.nl/nl/waarom  I was able to contribute some of my archive material to the Stichting. It was this organisation that finally achieved recognition for the victims and on 7 May 2016 monuments were unveiled on the Dam. As these death happened after the official liberation of the Netherlands on the 5th of May they were not recognised as victims of war. Herman's name was uncovered by his daughter Dora and son Frits. I was present at the ceremony together with some 20 other Buddes.
Hermann Löns in Ootmarsum
This famous and much-loved German heath-poet loved the city Hannover he lived in. He was born in 1886 in Kulm, West Prussia. He was an early environmentalist who even in his day wrote a poem entitled: 'Heath not asphalt'. His favourite region was the Luneburger Heide. He wrote several poems about this vast heath landscape. He was also a very socially committed person who had his own political column in the local newspaper: Hannoverischen Allgemeinen Zeitung. In this he discussed social abuses and other unjust in the German empire.
The other side of his personality shows us a person on the run from the law. Several times his outspokenness got him into trouble. In a heated debate he once boxed and damaged his opponent's ears. He was summoned to appear in court. Furthermore, his second wife divorced him after he had ill-treated her, for which he also had to face court.
Whilst he was on the run from the law one of his contacts, Wilhelm Grashof from Neuenhaus, had arranged a safe house, for the then 46-year-old poet, just over the German border in Ootmarsum, at the family house of watchmaker Gerard Budde. He stayed there from May 22nd till June 1st 1912. While there he wrote, exhibiting obvious mood swings, eight letters in which he also details interesting aspects of the Budde family and the township of Ootmarsum. These letters were analysed and published in 1991 by Karl Koch, with whom I corresponded in 1999.
Karl says that while Löns was not a racist he had a fixed opinion on who were and weren't his 'blood brothers'. His descriptions of people who were different from him are often arrogant and condescending. He was not very tolerant of different cultures, religions and worldviews. Karl also mentions that he had little respect for the weaknesses and differences of others.
It is clear in his letters that his visit to Ootmarsum was not on a voluntary basis. From the first day he complains that he wants, at all costs, to return to Hannover. He also complains about his lodging and the noise and inconvenience that made it difficult for him to write poems. The rumour in Ootmarsum was that he was a German spy! Perhaps because he continuously talked about the prospects of war.
However, a few days later he writes to his friend in Gemnany that he has written seven articles, some of them very elaborate. After his stay in Ootmarsum he apparently travelled to nearby Oldenzaal, from where he took a train back to Hannover. From here he wrote several letters to 'friends' in Ootmarsum in which he raves over his visit to that place.
Enclosed is a literal translation of the various references of the Budde family and Ootmarsum that he notes in his letters.
(24/May/1912). I get on well with the local population and the landscape is hilly and varied. The residence, however, is unsuitable. Forget about working. Everything is damp and the bed! Men, that is a real horse-cloth…. My host-family is nice, food is good; but the people have not got a clue about intellectual labour, their wardrobe is in my room. The daughter potters constantly through this.  Apart from that I live on the ground floor, in the neighbourhood of the school. In front of me the street with cobblestones, clattering of hoofs, carriage battering, barking dogs, gramophone concerts in the pub on the other side, lots of shop traffic in the house, etc. It is totally out of the question that I will be able to come to some real writing. Apart from the priest, one of the sons, simple, but a very intelligent gentleman, he leaves tonight, I have got nobody to talk to. I will leave in 8 days. In the meantime I will have a look around in the area and watch the people and then I will move on again.
(25 May). It is cold today, especially in my room, on top of that, on the street, next door and above me constant noise and so I am torturing my brain over an essay, as I am not yet longing to something better. That's when your letter arrived and I now feel much better. I am now, 4pm, visiting my friend Rika to have a chat with her. She is 8-years-old and the daughter of the publican outside the town, at whose place I everyday have my afternoon tea, which is also in this place excellent.
(28 May). At Whitsunday I worked in the morning and in the afternoon I walked with several young people through the heath and returned the next day through the wet moorlands…. Ootmarsum is, despite the fact that the surroundings are very much to my liking, totally unsuitable for me, as the contacts to spur me on are impossible.
(31 May)…the people, where I live, are fantastic, food is just what I like, but the house is unsuitable. It is very noisy in the house and it is impossible to change that…looking back, my visit has been very informative, already alone for the strange observations for which I still don't have a full explanation. Otherwise I have been very productive and have written seven serials.
(1 June).. I live here with simple farm folk. The fact that these people eat meat, bacon, buckwheat pancakes with their work-fingers, doesn't bother me, but the fact that my bed is very primitive, the bedroom damp, the towel the size of a handkerchief and the washing basin as small as a finger bowl, that there is no bathhouse in town, that is in the end even for a man who has lived (during his stays at the Luneburger Heide) for 4 months, in a wooden cabin, slept on hay and washed himself in the creek, impossible.
The then 22-year-old Theo Budde was on that Whitsunday walk one of the 'young people' that walked with Löns over the heath. Theo's daughter Annie Budde recalls the stories that her father had told her about this trip and there are also old family photos with Theo and Herman Löns, shot in the watchmaker's workshop. In 1994 I visited this area with Annie. At the border in Neuenhaus is an inn called ' Zum Lönsberg.
Theo's friend Johan Reuver en Hermann Löns continued to correspond with each other after the brief visit to Ootmarsum.
In 1914, Löns volunteered for the army at the outbreak of WWI. He was killed on 26th September 1914 during the German attack on Reims in France.
Theo Budde businessman and poet
Theo (28 August 1889 – 8 August 1959) continued the business that his father had established in Ootmarsum.  He also inherited the vegetable garden (hof) the family had in the Molenstraat. He was a watchmaker, jeweler and an antique dealer. His business instincts were famous and he was locally known as the Antiques-Jew – not because he was Jewish but because the Jews were renowned for their business skills. During the 1920s and 1930s he travelled around the Province of Overijssel and at the various farmhouses bought old crockery (some was still made of pewter). Sometimes he exchanged this 'old rubbish' for new posh crockery and he was on occasions thought to 'be mad' for conducting this sort of business transaction. Theo was, in those days, one of the few people in town that went on a business trip to England. The whole town was talking about it. He had great stories to tell when he came back, such as the one where he mentioned that they spoke Twents in London – 'way in for gaps and way out for gaps' (gaps is the dialect expression for the 'local men' in Ootmarsum). He referred to the signs in London: 'Way in for cabs, way out for cabs'.
Also for business he twice a year traveled to Amsterdam and stayed at that time with his brother Frits.
His wife Marie van Olffen (29 April 1892 – 20 April 1964) came from Oldenzaal, a town not far from Ootmarsum. Her family were bakers. They got to know each other through a singing group and for many years continued their involvement in the local singing and dancing activities. Both were active in the folkdance group (Boerendansers). Theo wrote many song texts for the annual local Siepelstad Revue (Siepelstad is the nickname of Ootmarsum, referring to siepels which are unions).
He was very much involved in establishing tourism in this perfectly preserved medieval town. One of his projects was to establish an original Los Hoes in Ootmarsum. (A type of timber-framed farmhouse build as a large hall with bays on the sides for livestock and storage and with the living accommodation at one end).
For this he established in 1927 a foundation committee. They were very successfully and already a year later they had raised $2100 and were able to buy a Los Hoes that was situated in Agelo and resembled it in Ootmarsum (article below – picture underneath is the original Los Hoes.
Currently tourism is by far the most important form of income for the local economy. Theo already at a very early stage  recognised the value of the old buildings; the original layout of the streets; and the many traditions that had luckily survived the changing times. He just loved his Ootmarsum. He was an active member of the Twentsen Schrieversboond. (the Twents writers guild).
When in 1959 Theo died his youngest son, Dre worked at the State Mine Maurits in Geleen. In the following months he collected all of Theo's poems and they were typed in the Twente language in the typing room of the Maurits coalmine. They were collected in a simple publication – title; 'ne gapse vol' (a handful) – and were presented to his brothers and sisters at Sint Nicolas. Together with his brother Fred the bundle was republished for the family reunion to celebrate the 80th birthday of Theo's eldest daughter Annie and the 110th anniversary of his birthday in August 1999. His poems are still recited at the various tourist and local activities in Ootmarsum. The latest publication as recent as 2020 in the Twente language magazine 'Bodbreef'. There is seldom a new book published about this historic town, without a mention of his name, a line or a full text of one of his poems.
With other like-minded people in town Theo formed a core group that kept alive important traditions such as Vlöggeln at Easter during, for example, the difficult times of war. (This is a procession dating back to medieval times  of people holding hands and singing two religious traditional Eastern songs while walking through town through farm house and certain buildings)
His extensive people-network became very important during World War II when his son Herman was rounded up in 1943 for resistance work during the German occupation of Ootmarsum. He was able to organise that during the court trial in Utrecht Herman received the services of a translator – this despite the fact that he spoke fluent German. What he didn't know was that his father had arranged for this translator to creatively translate Herman's answers in such a way as to result in his acquittal. When he was arrested for the second time (for the same case) his father was able to arrange that he was put to work just over the border in Germany.
Immediately after the war refugees roamed through the land and at least one (his name was Arie)  stayed with the Budde's in Ootmarsum, he came from one of the concentration camps. After his stay the house needed to be disinfected . TBC was a big problem after the war and the poor physical state many people were in meant that there were a lot of sufferers.
Mien ole hoes
Theo traced the history of their parental house. It was built in 1710 by the local mayor van Niel and stood at that time, next to the town gate. The lane that skirts the garden was the east wall of the town. In Theo's poems he expresses his love for this old house and mentioned the visit of the Bishop of Munster Bernhard van Galen (see also: The Treaty of Munster). In 1803 Derk Warnink bought the house. Tradition has it this was one of the well-off families in Ootmarsum. After Gerhard Budde married Johanna Warnink in 1875, they inherited the house. Here he started his watchmaking business, which was continued by his son and grandchild.
One of his poems is titled 'Mien ole hoes ' (my old house).
't Hazelrot
In Wietmarschen the monastery had the political and economic powers and in Nordhorn, this was held by the Count of Bentheim. In Ootmarsum it was the Drost (bailiff) that held these powers. He governed from the Commanderie. Closely linked to this was the Mark-court. Marken (commons) developed from the age-old tradition of naoberschoppen (neighbourhood communities of 13 or 14 farmers). Originally democratic in nature, these naoberschoppen developed into the feudal system of marches – initially to regulate the use of natural resources such as the heath grounds that were used by the farming communities for fuel, fertilising and sheep. The court was dissolved during the French occupation in 1795. The properties belonging to the court were confiscated under commissioner G.J.Engels, which is how this place got its current name:  Engels tuin (garden).

't Hazelrot, Wortelboerstraat, Ootmarsum. Theo on the left.

Theodorus Budde built his new house in 1956 next to this old property, which still contains remnants of this court. He called his house 't Hazelrot' an old name for this area, most probably because of the hazelnut trees that were pulled up. Annie lived in the house until her death in March 2009. The house was sold to a son of the neighbour and their first born was the first child ever born in the house, later on that year.
Marie van Olffen died in 1964 in Groningen where, at that time,  her son Bob was a chaplain she was cared for by the sisters of  a local monastery.
Theo jr. and his wife Rie renovated the 'ole hoes' in 1956 to its current state. The wind-vane on the roof shows the original building year of 1710 with the initials of its first owner van Niel. The foundation stone in the front facade has the initials of Theo and Marie and Theo and Rie. Furthermore a tube with the history of the house and family history information is built in behind it. Sandstone next to the garden gate holds the stylish initials TB. A beautiful lead-light in the staircase shows the watchmaker at work.
After the death of Theo jr in 1978, the business was continued by his wife and colleague Bert Mensink.
In 1980 the building was sold and this ended the 100-year period of Budde occupation of the house. Rie continued the antique business within the building but then moved to a smaller shop in the street behind it.
Bert took over the watch and clock making   business and moved that to the Oostwal. In 2014 his daughter Annemiek took over the business, she is also a silver and gold smith.
 The house at the Marktstraat was sold to Ton Scholten he renovated it beautifully and and his sister Hanny Scholten opened here a luxurious shoe shop 'Elle en Lui".
In August 2004 a 12th century water well in the garden of the house was 'rediscovered'. Dre Budde did remember the well and Annie mentioned the pump in the garden, which she remembered. The historic society dated the 'Bentheimer stone' well from the 12th century. During the restructuring the garden was transferred into a sculpture garden as part of the Ton Scholten galleries which are now dominating a large part of the Marktstraat.
Videoclips Ootmarsum
Weerselo, Mander (tumuli), Ageler Es
The diaspora
After having lived for centuries in places not more than 30 kilometres apart from each other, the family situation changed dramatically with the following generations. A brief overview of some of the major developments of each of Theodoor's children
Annie (19 August 1919 – 10 March 2009) became a teacher and worked for several years in the 1950s in Dutch New Guinea. Afterwards she settled in Ootmarsum in 't Hazelrot . Until her retirement she was managing director of a retirement village in Almelo, involved in a range of new developments in the care for the elderly.
Herman (1 December 1920 – 25 September 1977) my father married Annie Velthuis and moved after the war to Vught and later on to Oss. He became a dedicated civil servant at the local councils of these two towns in Brabant. He died in 1977. They have three children, Paul, Monique and Rob. The last two moved away the furthest from all of the family Rob to Italy and Paul to Australia. More below.
Suze (18 July 1922 – 29 November 2017) became a nurse and helped bring me into the world. She married a colleague and friend of my father, Tiny Peeters from Escharen. They lived for many years in Dongen (Brabant) and retired in Den Bosch. They have four children: Mirjam, Ronald, Edith and Edwin.
Theo (27 November 1923 – 18 May 1978) took over his father's company, he married Rie Veldboer. He died in 1978.  Rie continued the antique business until her retirement, she died in 2007.
Bob (25 March 1926 – 30 September 2001)  my godfather. He was ordained as a Roman Catholic priest in 1953 and worked in several parishes in the northern provinces. He became a parish priest in the Frisian town of Delfzijl. He retired together with his housmate Annie Wiggers. Bob died in 2001.
Fred (17 April 1928 – 29 April 2019) specialised in after-care work for prisoners at government agencies. He married Ton van den Bergh, who is distantly related to the Budde family that moved to Nijverdal (see: Moves to Ootmarsum). They lived in Nijmegen and the Hague before settling in Rosmalen (Brabant). They have three daughters: Michelle, Karin and Judith.
Riet (28 September 1930 – 15 August 1987)  moved to Deventer, where she became a secretary to the director of the leading packaging company Thomassen & Drijver. She died at her home in Diepeveen in 1987.
Dre ( 4 March 1934 – ) married Fien Hesp. Her father was like Theodoor, active in the 'Twents' writers guild. Dre became a human resources manger in the southern province of Limburg and later became a partner in the consultancy company Hay, they moved to Leersum in the centre of the country. They have three children Bas, Carlijn and Katja
Herman Budde – van Twente naar Brabant
Theodorus's second child was Herman Budde. He was born in Ootmarsum on the 1st of December 1920. He finished high school in Oldenzaal in 1937. These were the years of economic depression and he was 'lucky', with the help of his father, to get an unpaid position as a clerk at the town hall in Ootmarsum. A year later this was changed into a paid position at a salary of DFL100 per annum! During his spare time he studied for the various degrees necessary to progress his career as a public servant in local government – a career he would stick to all his life.
Hermans friends
Herman and Jo Horsthuis

Louis Johanink

Jo Horsthuis

Henny Hulshof (who provided lost of support to the family during Herman's imprisonment)

Herman van Zuilenkom
He was unfortunate to be young at a time of great European turmoil. He was summoned for military service during the mobilisation of the Netherlands in 1938. In the end he only went into military service for a few months. He was stationed in the military barracks at Hoorn as a corporal of the 19th Infantry Regiment. When the Nazis conquered the Netherlands in May 1940, his Regiment was disbanded and later on he told me that they threw their weapons into the moat surrounding the barracks to make sure the Germans were not able to use them. He went back to Ootmarsum, where he pretty soon became involved in the resistance.
I have written a separate book on this war period See:  The war of my parents.
After the interruption of the war he finished his evening college.  In 1947 he applied for a position at the Council Chambers of Vught where he started work on January 1st 1948. Five years later he was able to improve his position by moving to the larger town of Oss. He specialised himself in internal affairs and archives – an area he remained involved in until his early death in 1978 at the age of 57.
Vught and Oss
Herman's wife Annie Velthuis was born in Ootmarsum, on the 2nd of October 1924, she was the eldest daughter of builder Jan Velthuis (1889 – 1963) and Hendrika Sleiderink (1899 – 1951), her grandfather Herman Velthuis (1857-1952), was for a long time the oldest inhabitant of Ootmarsum, After Annie  4 other children were born: Lies (1926- 2018) , Ida (1927-1971), Ben (1928 – 1987) and Jan (1939- 2021).
Jan Velthuis (sr) made local history when in 1909 he drove the first car ever made in Ootmarsum. It drove on bicycle wheels and was built together with the local bicycle maker Marinus Johannink.
Herman of course knew Annie from his childhood and teenage years in Ootmarsum, but she was 4 years younger and that is a 'big' difference when you are young. They got to know each other better during and after the war, Annie also worked at the Council Chambers. They started to go out after the war, after Herman broke up his relationship with his girlfriend of that time. They married in Ootmarsum on the 3rd of May 1949 and moved to Vught in that same year. (She later changed her name to Anny in order to differentiate with Herman's sister also called Annie). Both were very active in the local society in Den Bosch of people who had 'emigrated' from Twente to Brabant.
Brabant
Brabant is a province in the south of the Netherlands. Its history is linked with Burgundy, Habsburg and Spain. Long before Holland had its Golden Age, Brabant together with Flanders formed the economic centre of western Europe during the 13th and 14th century.  These two provinces instigated the process that later on led to the unity of the various Dutch provinces. After the 80-year freedom war the southern part became a colony of the Republic of the Netherlands – a situation that lasted until the French Revolution in 1790s, when all of the Netherlands was occupied. Many of the restrictions on religion (Roman Catholic) and education were only slowly removed in the first half of the 19th century. This 'isolation' kept some of the specific Burgundy culture alive and makes Brabant different from the rest of the Netherlands.
Vught
Old tower and church Vught – Willem van Leusden – 1949

Vught is only a few kilometres from the famous heart of the capital of the province Noord (North) Brabant, 's-Hertogenbosch  (Den Bosch). Vught is one of the oldest towns in Brabant operating road tolls to the city of Hertogenbosch as far back as the year 1006 (Fughte). The local castle Maurick, played a key role, as headquarters of the Staten (later Republic of the Seven United States of the Netherlands) captain-general Prins Frederik Hendrik, in the 80 year war (1568-1648) that ended with the Treaty of Munster.
It must have been more than a coincidence that my parents settled in Vught after they got married. In this very same town Herman had only a few years before been imprisoned in the infamous concentration camp. Amazingly he never ever talked about his time in the concentration camp with his wife or with anybody else for that matter. He did go to the annual remembrance ceremonies.
In 1952 Herman became one of the founders and first chairman of newly established youth association JEEP.
I was born here on Friday the 8th of September 1950 at 6.40 am. Two other children were born Monique in 1952 in Vught and Rob in 1954 in Oss.
Weather forecast 8 September 1950
Het weer op vrijdag 8 september 1950 te De Bilt

Temperatuur

Normaal

Neerslag

Gemiddelde

13.1

°C

15.4 °C

Hoeveelheid

2.3

mm

Maximum

16.8

°C

20.3 °C

Duur

1.5

uur

Minimum

9.3

°C

10.6 °C

Zon, bewolking & zicht

Wind

Duur zonneschijn

4.1

uur

Gemiddelde snelheid

6.2

m/s

= 4 Bft

Rel. zonneschijnduur

31

%

38 %

Maximale uurgemiddelde snelheid

9.8

m/s

= 5 Bft

Gem. bedekkingsgraad

–

octa's

Maximale stoot

–

m/s

Minimaal zicht

–

km

Overheersende richting

245

°

= WZW

Relatieve luchtvochtigheid

Luchtdruk

Gemiddelde

80

%

82 %

Gemiddelde luchtdruk

1013.8

hPa
I was the 18,000th inhabitant of Vught and this fact got me into the newspapers right from birth. Weight 6 pounds, 80 grams.
Nachtegaallaan Oss (very first house on the left)In 1953 the family moved to Oss, a small but buzzing, provincial town in Brabant. Herman was offered a position at the local council and over the years worked his way up. He continued his work for the youth and also here became the chairman this time of the youth association of the Parish of Gerardus Majella  and enjoyed many good years, making friends for life. Annie became involved in the newly-established Catholic parish of Don Bosco in their neighbourhood and was active in social work.
Oss
This town has a rich history, dating back to prehistoric times, when the area north of the current town was inhabited by small farming communities. Discoveries indicate trade during the Roman times. The reasonably prosperous town received its city privileges from Countess Johanna van Brabant in 1399. During the 80-year-war the town was situated on the border between Gelre and Brabant and suffered tremendously due to pilferage, ransoms, poverty and despair. The following period as a colony under the States General was not much better. In 1871 Jurgens (Unilever) started the production of margarine. This was the beginning of the town's industrialisation, which has provided it with many economic advantages.
Live was not all that complicated in the 1950s. Everybody was working hard, rebuilding and recovering from the recent war, money was not plentiful, but this was improving year by year. Herman took on some extra work reorganising the council archives of the neighbouring town of Megen. The television arrived in 1959, just in time for the Olympic games in the following year. The first family car made its entrance in 1964, after my dad got his driving licence.
The sixties were turbulent and exciting – the older generation was still partly stuck in century-old traditional ways of culture, work and religionand their kids ready for a change. Generation clashes took place also in our Budde family but were all resolved. New thought processes were set in motion instigated by Herman's family, during specially organised family retreats. This certainly made the transformation through these, for them very confusing, times easier. Pope Johannus XXIII , John F. Kennedy, Martin Luther King as well as the Beatles left everlasting impressions on both young and old.
Netherlands – Italy – Australia – Update 2022
After high school the different personalities and directions in life became clearer. A school counselling session at the age of 15 indicated for me a career in business – spot on. Monique became involved in social work studies. Rob went to Drama College became a leading 'spectacolo' director in Italy and with Grazia runs his own business.
Travelling has always been an important activity of all of us. The annual family holidays in 1960s and 70s in Italy and Yugoslavia were among the highlights of the year.
Monique and her husband Geert travelled widely through Central Asia and they spent two years in Zambia as foreign aid workers. In 1978, their son Bas was born in this African country. Eventually they followed the family roots back to Twente and have been living there now for over 40 years. Their daughter Maayke was born there in 1980. Geert became a high school teacher in Hengelo from which he retired in 2017. He established the Repair Cafe in Almelo. Monique became the director of the Klientenraad in Almelo (the umbrella for of social care organisations), for her work she received The Royal Award of Orange, she retired in 2018. A key part of their life is still travelling, especially in their campervan.  In 2021 Geert made an epic bicycle tour to Italy.
After her study Maayke lived for 2 years in China,  Bas became a physiotherapist. Both married and both have two children each.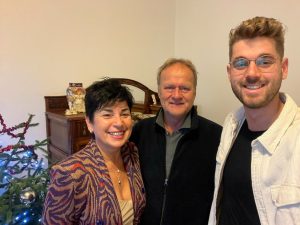 Rob and his first partner Sabine made a home out of their car and travelled to Italy. Through hard work and hardship, they were able to overcome cultural and language differences and win the hearts of often very chauvinistic Italians. Rob settled in Rimini where he, in 1992,  married his wife Grazia. They started their own business (Magina), organising conferences and events. They bought a holiday house in Sicily that we visited in 2010. Their son Alex was born in 1996, he studied in the Netherlands, America and Singapore.He graduated in Leiden in 2020
And I…. went the furthest of them all. But before that we first settled in Oss. I married Louise van Daal the daughter of the baker in Mill. We met at college in 1967 and went on from there. We married in 1972. Before that we both spent a year in London finishing a practical year of our business college. We travelled widely through Europe, from Russia to Greece. I worked in sales and marketing for Rank Xerox before starting my own company in marketing and communication in 1978. History has always been my major hobby. In Oss I became involved in local history, the local museum, heritage activities and I published a range of articles and historical publications.
Merlijn was born in 1975, Erwin in 1977 and Ravian another two years later. We moved twice, first from our flat In the Schaepmanlann to a house in the Kempenaerstraat and finally to a historic villa in the Burgemeester van den Elzenlaan.
We packed the family up and moved to Australia in September 1983. Where Louise and I continued our own business which has been specialising in videotex (a predecessor of the internet). In the 1990s this developed into a telecommunications research company. In 2005 I became the strategic adviser to the Minister for Communications in relation to the National Broadband Network. In 2009 I was the co-initiator of the UN Broadband Commission for Digital Development, I remained an advisor to the Commission till 2015. We travelled widely through the USA, Europe, Asia and South America. In 2017 we sold the research business to a company in Lyon, France. Another highlight of my career was the organisation of the broadband and smart city trade missions between the Netherlands and Australia. In 2016 my special guest at the smart city conference in Sydney was Queen Maxima from the Netherlands.
The history hobby continued by exploring Aboriginal culture and by following the tracks of the first convicts, who build a 220km road that skirts the bottom of our property in Bucketty, a jewel of a rural retreat in the Lower Hunter Valley north of Sydney.  For 25 years I was the initiator and chairman of the Convict Trail Project – a community-based initiative to restore, maintain and promote the convict-build Great North Road.Louise took op history and art history studies at the University of Sydney. We both also enjoy philosophy with our favorite teacher Dr. Kerry Sanders from the University of Sydney. In 2019 we moved to Brisbane, where Merlijn and her family  lived, and Erwin and his family decided in that same year to also move too.
After Merlijn finished her university studies in Tourism Management she travelled through SE Asia and Australia. After her marriage with Gavin Nicholson (pilot at Virgin) she moved to Brisbane where their first baby Abigail was born in 2007, followed by sisters Hannah (2009) and Grace (2011). Merlijn started university again in 2015 and graduated in 2019 with a Master in Social Studies, she is currently working at an NGO involved in refugee work.
Erwin finished his environmental sciences studies and started a job as environmental office at the Road and Traffic Authorities (RTA). In 2003 he was offered a job for this organisation in Wagga Wagga. After his marriage to Caroline Daleh they moved to Wagga Wagga. Here Erwin started the local office of Environmental Consultants NGH and Caroline had here her own dentist practice. They have two children Sebastian (2006) and Cassie (2008).  In 2019 they moved to Brisbane where Erwin became the CEO of NGH. Caroline continued her profession as a dentist at one of the local dentistry.
The creative soul in this family is Ravian, he finished his graphic design studies and started teaching at a graphic design college in Sydney. After that he took positions by two companies involved in the design and operation of hotel reservation systems. He separately also runs his own business. After his extensive travels he met Zohar Edelhstein and they married in 2006. Zohar started her own business in the design and production of exclusive jewelry. A highlight in her career was a presentation of her jewelry at a fashion show in Paris in 2020.
Their daughter Aiyana was born in 2007 and their son Neriya in 2010. They now live in Hazelbrook in the Blue Mountains.
In 2014 my mother left her house in the Nachtegaallaan where she had lived since 1953. She moved to Friso, a nursing home  in Almelo, close to where Monique and Geert lived. She had a great time here and died peacefully at the age of 94 in 2018.